Imperial Japanese Army Type 94 Tankette Late Production 1:16 - Takom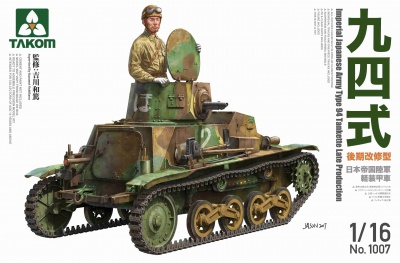 Developed in 1934, the Japanese Type 94 Tankette combined the features of a small, "bean-sized" infantry support tank with a "battlefield support tractor." During the Sino-Japanese war that started full-swing in 1937, the Type 94 "fighting war horse" tankette helped fill the gaps left by a shortage of the larger Type 89 Medium Tank. The Type 94 also filled an important training role during a time when mechanization was advancing and tank implementation was increasing, requiring more tank crewman. 12 independent light tank companies were created as the core of the tank regiment.
On the battlefield, however, the Type 94's shortcomings were evident. To begin with, the 6.5mm Type 91 Vehicle-mounted Light Machine Gun was inadequate as the main firepower of an armored fighting vehicle. Also, the suspension and running gear proved insufficient to handle muddy conditions during the rainy season. To address this problem, a larger, weight-bearing idler wheel was developed and adopted, providing the tracks with more ground contact area and thus better traction.
Although the Type 94 Tankette Late Production version also featured the standard 6.5mm Type 91 Light Vehicle-mounted Machine Gun, many photos exist of the type being fitted with the more powerful 7.7mm Type 97 Heavy Vehicle-Mounted Machine Gun, as used on the Type 97 Medium Tank and other tanks. This gun has a gas pressure activated system, like the Czechoslovakian ZB-26 light machine gun. Unlike the Type 91 light machine gun, the Type 97 heavy machine gun had its magazine on top of the body, with the sight mounted on the left, opposite of the Type 91's layout. Due to these differences, the barrel cover and ball mount for the Type 97 gun are slightly different than those for the Type 91. Also, since the magazine and loading method was completely different, the interior magazine racks of the late production vehicles were also redesigned.
After the start of the Pacific War, this late-production version of the Type 94, with its high mobility in addition to the improved suspension and armament, helped secure Japan's first victories during battles in Malaysia, Indochina, and Burma. In addition to the standard tankette version, other versions based on the late production chassis were created as special engineering vehicles, such as the Type 97 Pole Erector and the Type 97 Cable Layer, both used behind the battle lines to erect telegraph poles and cables for communication.
The Type 97 Late Version prototype was further modified with a better suspension and a 37mm cannon. The results of this test vehicle were utilized in the development of the Type 97 Tankette (Te Ke).